Dear Family & Friends,
We woke this morning to strong blustery winds at ABC and conditions high on the Turquoise Goddess looked particularly cold and unpleasant. Naturally we all gathered in the warmest place – the kitchen – enjoying freshly brewed espresso coffee while watching Rabin make delicious breakfast crepes…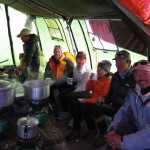 The weather forecast is looking very promising for the next 4-5 days and we'll leave for C1 tomorrow expecting to summit Cho Oyu on the 28th.
The only official item on the agenda this afternoon is a demo of the oxygen system we'll be using during our summit attempt – that and a couple of games of AMS (a card game well suited to life at 5700m!).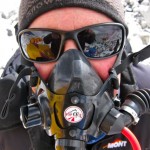 The team is strong, focussed on the task at hand and I'm confident we can succeed.
Next dispatch will be after our return on the 29/30th, so until then we welcome your thoughts and prayers!
Soren