Dear Family & Friends,
The 'Turquoise Goddess' is not happy and basically blew us down her slopes this morning. Our first summit push came to an abrupt halt in C1 after a restless night listening to the howling wind trying to tear our tents apart. "Windy…" said our Argentinean weather man while adjusting his suspenders; "…..this is not windy, let me tell you a story about Aconcagua….."
Anyhow – we retreated down the mountain through 1 foot of snow and arrived back at ABC wet, cold and wind blown.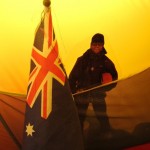 And what about Colin you ask? Truth be told we all forgot about the fella for a while – easy to overlook and all that. Anyway when we rediscovered him in Camp 1 he'd been on his lonesome for many days and we all agreed he'd become a somewhat one-dimensional character….
The weather down here at ABC is pretty miserable at the moment  – getting to our tents involves trekking through thigh deep snow…. – and we're all hanging out in the dining tent with 2 heaters on full boil.
Soren
PS – All expeditions are off the mountain and back in ABC and a couple are even pulling the pin completely due to the unseasonal weather.