Dear Family & Friends,
We awoke this morning to clear blue skies and a landscape blanketed in a thick coating of snow. A few tents got damaged during the 2 day storm and the sherpas spent the morning doing repairs and digging out our camp site.
At this stage the plan is to let the snow consolidate up high for the next 48 hours before moving back up for our second summit attempt – this means leaving for C1 on the 29th and aiming to summit on October 2nd.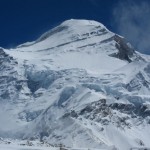 The 'Turquoise One' – she who must be obeyed – is looking a bit wind swept but is otherwise indifferent to the chaos caused by the unexpected blizzard.
Soren