Dear Family & Friends,
We finished the expedition the way we started it – with technical dramas…! – so I'm beaming up this blog from downtown Nyalam as we're well and truly on our way back home.
As you're probably already aware we did not summit Cho Oyu, but below is the account + photos of our second attempt. Thank you Louis for your minute-by-minute dispatches during this 3-day period…
It's fair to say the weather forecasts this season have been inconsistent and unreliable, but on September 28th the various weather models agreed that summit conditions for the 30th were perfect with very high winds expected for October 1st and 2nd. Given the uncertainty for medium to long-term forecasts I held a meeting with our sherpas and members and recommended we push for the 30th as our summit day. This was despite not knowing the snow conditions above C3 and whether the fixed lines above were still intact or indeed how much had actually been fixed by the Korean team who summited last week. It was an ambitious – but definitely possible – plan and Graeme, Tommo, Warren, Ang Kaji, Lakpa T, Lakpa S, Angel and myself left for C1 after lunch on the 28th and arrived early afternoon on the 29th in C2.
The approach to C1, the scree slope below C1 and life in C1…
1st & 2nd Icewall and C2.
The remainder of that day was spent rehydrating, snacking and resting – on oxygen after 6pm – until midnight when we started getting ready for our summit attempt. We left camp at 1.35am on September 30th wearing full down suits and oxygen flow at 1ltr a minute. (Well everyone except Colin who seemed content to go without O's). The team was strong and progressed well and in fact we arrived at a main feature named the 'Rock band' above C3 @ 7600m in less than 3 hours. Things were definitely looking promising.
Well that unfortunately was as high as we got..!
Ang Kaji along with 3 sherpas from other expedition teams had gone ahead to prepare the fixed lines through the Rock band, but despite searching for 1.5 hour they were unable to find the way through – and no sign of fixed lines – and so in the early hours on September 30th I decided to turn the team back.
The view from below the Rock band toward C2, ABC and Shishapangma.
I'm really proud of the team for giving it everything and terribly disappointed we were unable to reach the summit.
After resting for a couple of hours in C2 we began the process of clearing our camps on Cho Oyu – this involved carrying monster loads down to C1 – and by early evening we were back at ABC with all our bits and pieces. We organised for 8 Tibetan porters to pick up some loads from C1 back to ABC. When adding up the total back in camp an extra 20kgs had mysteriously appeared out of nowhere and the price per kg suddenly increased from $1.50 to $2.00.  That's Tibet for you – resistance is futile!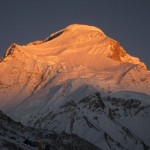 The yaks arrived at ABC on the 1st and we departed for CBC and Nyalam today October 2nd. Packing up ABC was quite the circus but somehow everything was loaded on to the yaks and carried down to Intermediate camp and a waiting truck.
Packing up ABC
I expect us to arrive back in Kathmandu tomorrow – that is of course unless we end up spending some quality R&R time in beautiful Kodari…..!
Soren