Dear Family & Friends,
So what happens when all you eat for 1 month are sunflower seeds, almonds and the occasional potato? The obvious answer is correct but the amazing thing is that when Louis turns sideways he disappears almost entirely.
Claudia on the other hand managed to pack on the kilobytes and we're all looking forward to seeing her bloated body of portraits published soon…
Graeme's commitment to the cause was questioned – mainly by himself – but when ordered to "Man the …. up!" he did just that – pulled up his thermals real tight and never looked back.
The only way to recognise Warren is by his purple fleece top. That thing has been with Wazza on every trip (and possibly more) to the Himalaya and is worn less like a garment and more like a second skin. "Just because it's threadbare doesn't mean it can't be useful…" he repeatedly states.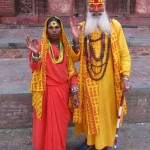 Tommo and Neddy both experienced the usual wear and tear associated with big expeditions although although their lifestyle change is a little unexpected….
John Boy's spiritual advisor went a little overboard when she suggested; "The journey means nothing – the summit is everything…!" Luckily John zapped himself a few extra times with his incense stick and broke the spell.
Angel seemed distracted for most of the expedition but then again the news of his impending fatherhood was a shock to all of us.  The famous goatee might be gone but his facial follicles are determined little buggers and the sideburns have gone quite feral….
The TurquoiseFellowship is officially disbanded with the departure today of Graeme who managed to secure a wing seat on a flight to Melbourne – Tracy called with the news while we were down at Durbar Square checking out the Dassain festivities this morning.
The rest of us will probably leave tomorrow for the village of Nagarkot – on the edge of the Kathmandu valley and about 1 hours drive away – to chill out (while saving a few $) for 3 nights or so. Before this happens we have a party to attend this evening with our sherpas and the staff from Himalayan Ascent. The beers are being chilled and the curries assembled as we speak….
Happy Dasssain!
Soren